SHERIFF CARMINE MARCENO'S MARCH FRAUD ALERT: SCAMS, FRAUD AND ELECTRONIC THEFT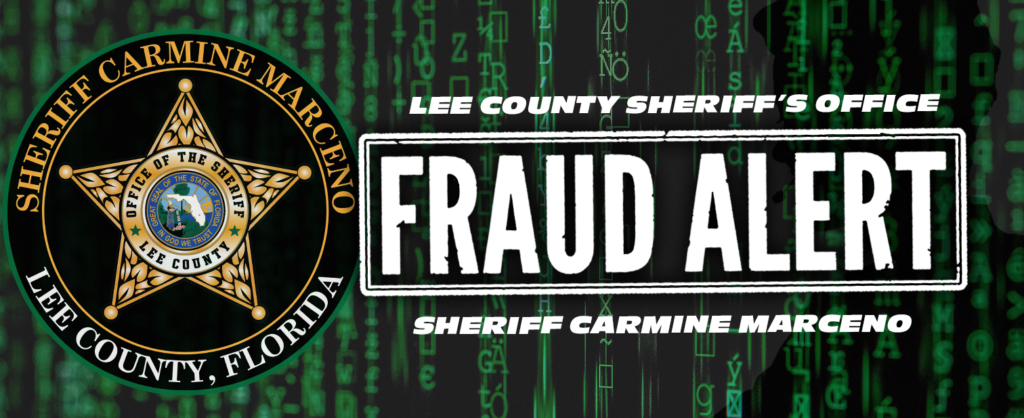 In this week's meeting with the Economic Crimes Unit, an escalation of attempts to defraud our residents was reported to me. The methods and targets change continuously, placing law enforcement in a reactive posture as we continue to share information and warn our community.
Both the Lee County Sheriff's Office and other county law enforcement agencies recently warned residents about phone calls appearing to emanate from sheriff's office and police facilities. Using a process called "Caller ID Spoofing," scammers can manipulate the phone number from which the call appears to be originating. Calls appearing to come from a local law enforcement agency evoke trust making it more likely to be answered and more likely that the information provided to the victim is believed.
Recent calls from a male subject claiming to be "Officer Reeves" and other fraudulent officers are notifying call recipients that an active warrant for their arrest exists and that, unless money is paid, an arrest will follow. It is likely that requests for money will be in the form of gift cards, wire transfers, cryptocurrency, cash apps, etc.
I was informed of an increase in "puppy scams," as well. Individuals searching the internet for puppies often land on fraudulent web pages, are asked to send money as a form of deposit or to purchase the puppy, only to find that this particular "breeder" is a criminal. Photos of the dog may be sent as you wait for the puppy to prepare for weaning…videos of adorable pups latching onto their mother seem to lend credibility to the scam…until the victim realizes that this canine will never actually arrive. As is always the case, I recommend adoption from local shelters and rescues. Our shelters and rescues have an abundance of dogs…pure-bred and of mixed breeding…waiting for loving homes.
Lastly, reports of rental and vacation rental scams are being received by our Economic Crimes Unit. During a period in which rentals are increasing in price and availability is somewhat lessened, potential renters desperately respond to ads for seemingly low-cost apartments, single-family homes, duplexes, etc. When you're planning to rent and sign a lease, you should ensure that you're physically seeing the property with a licensed realtor and/or the landlord/owner, and make sure the lease is legitimate before payment, of any kind, is made. Realtors will not ask you to secure a rental property using anything other than a check, wire, etc. Should you be asked to secure a property using gift cards or smartphone applications, something is likely amiss.
Please report all fraudulent activity to the Lee County Sheriff's Office Fraud Unit at 239-258-3292.