The Lee County Sheriff's Office Corrections Bureau is responsible for the operation and maintenance of all Lee County jail facilities, which include

Downtown Jail: The Jail is a maximum security facility with 457 beds. It serves as the central intake and booking facility for all people arrested within Lee County.

Core Facility: The Core Facility is a medium/maximum security facility with 1,216 beds. This facility is also the primary housing facility for the female inmate population. The Core facility provides the main operating services such as food, medical and laundry for Corrections.

Community Program Unit (CPU): The CPU is a minimum security facility with 336 beds. It offers a wide array of programs to assist inmates with re-entry skills, and alcohol and drug treatment.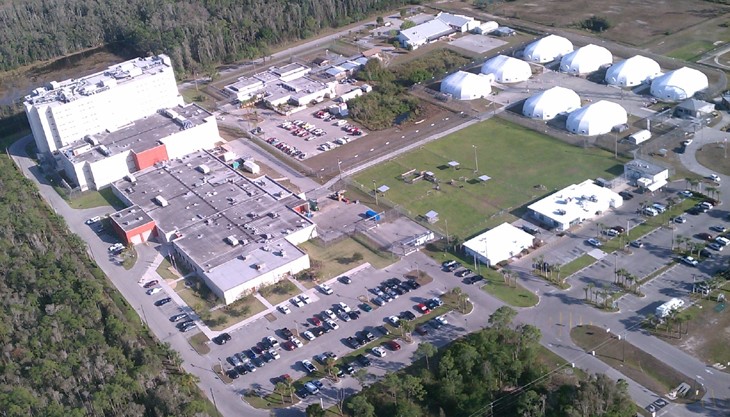 Hightlights
Lee County Sheriff's Office Corrections Bureau had an average daily inmate population of 1,475 in 2022, an increase from an average daily inmate population of 1,419 inmates the prior year.
ESE/Juvenile School Program
This program is run by the Lee County School District and is for those incarcerated that are under the age of 18 and for those who were enrolled in an ESE program in Lee County and are under the age of 22. This program also helps people prepare to take the GED test.
GED Program
This is open to inmates that do not have their High School Diploma. They are able to receive help preparing for the GED, and when ready, are able to take the GED test.
Lifeskills Program
Teaches basic life skills to inmates to help them lead a productive life. The program includes such topics as: Anger Management,Alternatives to Domestic Violence, Parenting Skills, Communications Skills, Men's and Women's issues , Resume Writing and Job Interviewing Skills, etc.
New Directions Program
This is a faith based program run by the facility Chaplain and utilizes people from community churches. This program touches on many of the topics presented in Lifeskills but from a faith based perspective.
Residential Substance Abuse Treatment
The Residential Substance Abuse Treatment program works closely with the court system – most of the people participating in this program are court-ordered. This program includes everything that is taught in the Lifeskills program but concentrates on helping inmates with addiction problems.
Self-Help Groups
We have several self-help groups whose volunteers bring their message into our facilities to help inmates; they include the following programs: Alcoholics Anonymous (AA), Cocaine Anonymous (CA), Narcotics Anonymous (NA), and Al-Anon which is for people who are coping with someone who has a substance abuse problem.
Inmate Case Management
This program targets inmate who are at high risk to reoffend and sentenced to three months to one year.
Address:
2115 Dr Martin Luther King Jr Blvd, Fort Myers, FL 33901
Lee County Core / CPU Facility
Address:
2501 Ortiz Ave, Fort Myers, FL 33905