ATTENTION
DUE TO HURRICANE IAN, MANPOWER FROM THE CIVIL DIVISION HAS BEEN REALLOCATED TO MEET THE NEEDS OF OUR COMMUNITY. THE CIVIL DIVISION WILL CONTINUE TO ACCEPT ALL PROCESS AND PAPERWORK WILL BE PRIORITIZED AND SERVED AS DEEEMED APPROPRITE BY MATTER NOT BY APPEARANCE DATE. IF YOU ARE CONCERNED ABOUT A SHORT DEADLINE YOU MAY WANT TO UTILIZE OTHER SERVICE OPTIONS. OUR PREVIOUS TURNAROUND TIMES WILL UNDOUBTEDLY BE EXTENDED. THANK YOU FOR UNDERSTANDING THE SIGNIFICANT NEEDS OF OUR COMMUNITY AS WE WORK TOGETHER TO RECOVER.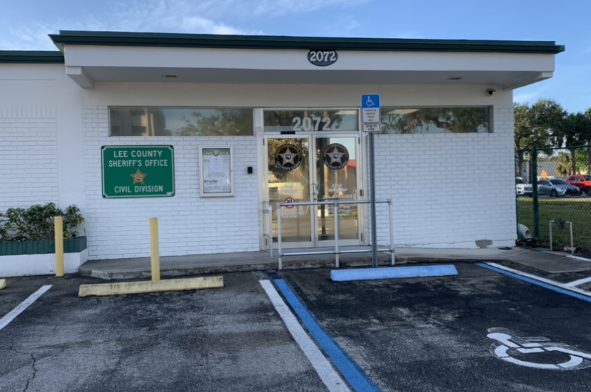 Civil Divison
The primary purpose of serving civil process papers or orders is to give a respondent notice that a legal proceeding has been filed against them. The process assigns jurisdiction in the court that issued the process.
In Lee County, the Sheriff's Office is responsible for serving civil process originating in the Supreme Court, Circuit Court, County Courts, Board of County Commissioners, local government code enforcement boards, and other governmental agencies as may be provided by law. Memers of the LCSO Civil Section serve civil process based on the following Fee Schedule:
Notice to Appear / Small Claims Summon: $40
Order / Notice: $40
Order to Show Cause: $40
Summons – Divorce: $40
Summons – Lawsuit: $40
Summons – 5 day Evictions / 5 & 20 day Eviction: $40
Summons – Show Cause: $40
Summons – Replevin: $40
Subpoena: $40
Tax Deed Notice: $40
Writ of Garnishment: $40
Writ of Attachment: $90
Writ of Possession: $90
Writ of Replevin: $90
Order of Commitment: $90
Out of State: $80 * Must provide an original Court document with a Court Seal along with a copy for service and a SASE. If you are unable to provide a document with a court seal, please contact a Private Process Service. A list of Private Process Servers can be found at: www.ca.cjis20.org
Additional Documents: – Direction for Levy on Personal and Real Property – Court Case Inquiry, Clerk of Circuit Court Lee County
Civil Division
Address: 2072 Victoria Avenue
Fort Myers, FL 33901
Phone number: (239) 477-1353
Hours of Operation: Monday-Friday 8:00 a.m.- 5:00 p.m.