PROTECTING YOUR PURSE/WALLET WHILE AT THE MARKET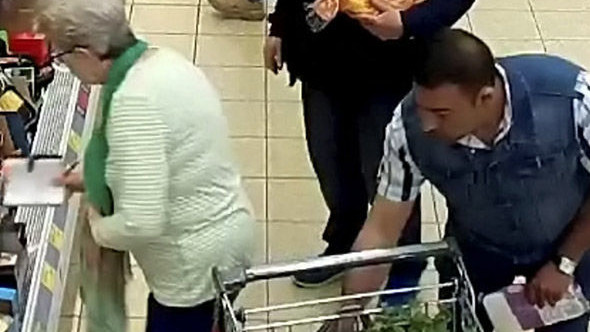 Shopping carts…or buggies, as they are often referred to below the Mason-Dixon Line…are an absolute necessity when doing one's weekly shopping at the market. Imagine needing to carry dozens of items from aisle to aisle as we attempt to gather our food purchases.
The child-safety seat atop the cart, when not occupied by a child, is a wonderful place to transport the fragile and delicate items such as bread and eggs.
It is also a convenient place to carry one's purse/handbag.
Food shopping is easier and faster when hands are free and one can freely remove multiple items from store shelves. Purses, handbags and backpacks can be burdensome and do fit so nicely in the child safety seat of one's shopping cart. Oftentimes, we see these purses and handbags left open…unzipped…unsecured…exposing the owner's wallet, keys, cell phone and much more.
The combination of easy access and distracted shoppers creates the perfect storm for thieves.
You walk over to one of the shelves to reach up for canned goods…you compare labels searching for the healthiest product…you ask a store clerk where you can find green beans…during which time the crime has been committed. Your purse, wallet and/or cell phone has been taken.
Some thoughts…
Ideally, bags/purses should be worn using shoulder or cross-body straps, however, we appreciate the convenience of hands-free shopping and recognize that the shopping cart will always be a convenient place to store one's purse.
Whether or not you are carrying your bag or storing it in a shopping cart, please consider keeping it closed, zipped, buttoned, etc. Open purses are a neon invitation for thieves.
When placing your closed bag inside of the child safety seat of your shopping cart, please consider using the seat belt to secure your purse. Intertwine the seat belt and your bag's handles to ensure that easy removal is not possible. Consider purchasing a carabiner and using it to secure your bag to the bars of the cart.
Avoid walking away from your cart…even for a moment. Keep your cart in front of you at all times. Be additionally cautious when unloading your cart as you approach the cashier.
Remember, thieves often work in pairs and in groups. While one distracts you or initiates conversation, the other(s) may be rummaging through or stealing your purse.
Reduce opportunity…reduce victimization!