The Lee County Sheriff's Office Day Work Program was created as a collaboration between the 20th Judicial Circuit Court, Lee County Probation and the Lee County Sheriff's Office as an alternative to incarceration.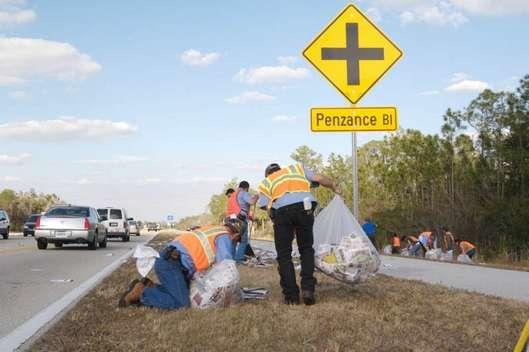 Who Participates?
The male and female offenders that qualify to participate have the opportunity to serve their sentenced time while maintaining a responsible work and home life. The program operates Monday through Saturday and typically consists of a nine-hour day, with a thirty-minute lunch break and two fifteen-minute breaks. Participants report to 6035 Landing View Rd, Fort Myers to work varied daily assignments, and their manual labor benefits the entire community.
How Does An Offender Participate?
The sentencing Judge may order a special condition upon commitment for the offender to attend and complete a specific number of days with the Day Work Program in lieu of jail time. The day workers choose a minimum of 2 days per week to work until their sentence is complete.
Who Receives Services In The Community?
The American Cancer Society
United Way
Heart and Homes for Veterans
Harry Chapin Food Bank
Midwest Food Bank
Habitat for Humanity
The Animal Refuge Center and others
Program participants also pick up trash along Lee County roadways
How Do I Report A Roadway That Needs Trash Picked Up On County Roads?
Contact DOT Request for Action https://www.leegov.com/dot/requestforaction.
Phone: 239-533-9400
Email: RFA@leegov.com
From The Beginning Of The Work Program In 2007 Until June 2020:
8,201 offenders signed up for the program
6,849 offenders completed the program
1,316 offenders were removed from the program for noncompliance
779,420 total hours were completed
Approximately 1 ton of trash collected weekly
Benefits:
The Day Work Program is beneficial to the Lee County community in two ways; the labor provided by the participants and the monetary savings.

Based on minimum wage, the monies saved by Lee County through the Day Work Program equate to an excess of $4.9 million. The program has also saved Lee County in excess of $7.1 million in non-incarcerations. Combined, the total savings to Lee County taxpayers' in excess of $12 million.

The participants also benefit by being able to complete their sentence while maintaining a job and home responsibilities in lieu of jail time. For more information, contact Lee County Sheriff's Day Work Coordinator Jeanette Defaira at 239-477-1718 Monday – Friday 8:00 a.m. to 4:00 p.m.