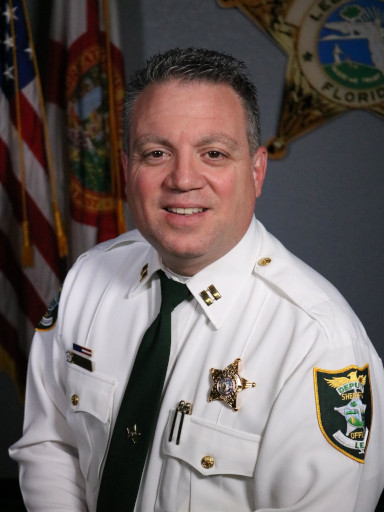 Commander Andrew Prisco
Captain Andrew Prisco is a career law enforcement professional with approximately 30 years of law enforcement experience. He is responsible for overseeing the Lee County Sheriff's Office Community Response Unit (CRU), which is comprised of Crime Prevention, Community Policing and Special Enforcement Teams. Captain Prisco also oversees the Public Information Office, Victim's Advocate, Community Policing, Special Enforcement Team and the Community Outreach Centers.
Captain Prisco was born in Queens, New York, and moved to Boca Raton, Florida with his family in 1978. He began his career in 1990 with the Palm Beach County Sheriff's Office where he was Florida dual certified in both Corrections and Law Enforcement.
In 1995, Captain Prisco joined the Greenacres Police Department where he was cross-certified as a Firefighter and served as a Public Safety Officer. Five years later, in 2000, Captain Prisco relocated to Naples, Florida and joined the Collier County Sheriff's Office.
Captain Prisco started earning promotions in 2002, spending time at each consecutive rank and has had the great opportunity to successfully Command two diverse Collier County Patrol Districts (North Naples and Immokalee).
As a Patrol District Commander, Captain Prisco took pride in his team's commitment to the community through dedicated outreach, communication and building relationships focused on community based involvement and participation. His training and experience are diversified to include assignments in Patrol Operations, Community Policing, Organized Crime Bureau and the Field Training Program.
When not at work, Captain Prisco enjoys boating and fishing. His greatest enjoyment comes from spending time with his family and attending his children's sporting events.
Back To Command Staff