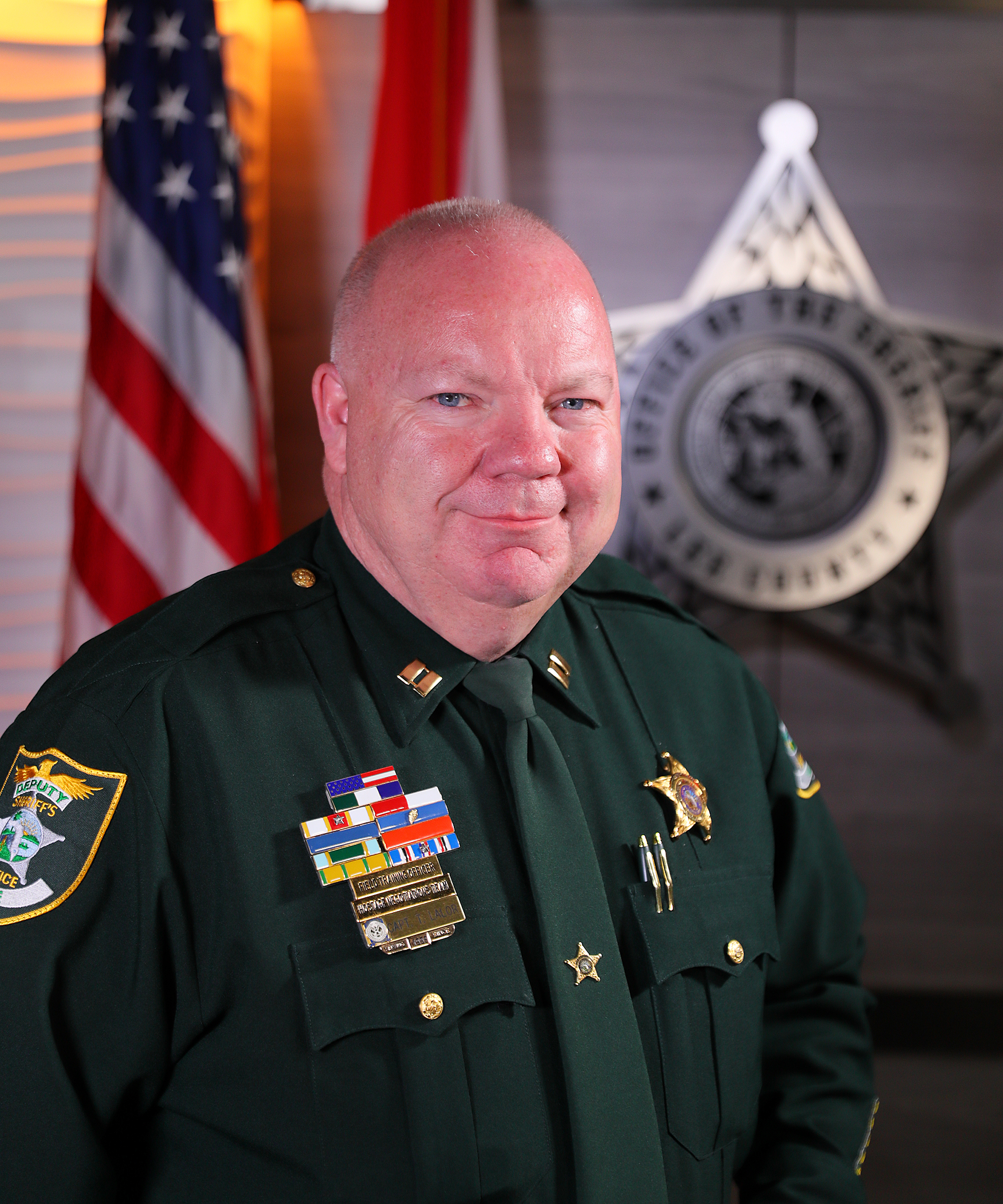 Captain Tim Lalor
Captain Timothy Lalor began his career with the Lee County Sheriff's Office in January 2000, at which time he graduated in the top 10 percent of the 79th Corrections Academy.
For a period of two years, he worked LCSO Corrections at the Main Jail, the Stockade and intensive program facilities.
Serving the county's West District beginning in May of 2002, Deputy Lalor worked as a patrol deputy and Community Policing deputy on Fort Myers Beach until 2007, at which time he became a criminal investigative detective.
In August of 2011, Detective Lalor was promoted to the rank of sergeant and served West District Patrol. Sergeant Lalor additionally supervised the SET and Community Policing Units.
Sergeant Lalor briefly transferred to LCSO's South District, in June of 2013, where he served as Criminal Investigations Sergeant. In May of 2014, he assumed the same position in West District.
The Criminal Investigations Division, while actively investigating crimes of all varieties, devoted resources to boat thefts, including high-end vessels, in this popular boating region of Lee County. In December of 2015, Sergeant Lalor supervised a joint operation with U.S. coast guard, U.S. Customs Border Patrol and LCSO marine units that was responsible for apprehending members of an international boat theft ring that gained the attention of media outlets nationwide.
In November 2016, Sergeant Lalor was promoted to the rank of Lieutenant and served as Assistant District Commander of West District.
In January of 2019, Lieutenant Lalor was promoted to the rank of Captain and served as countywide watch commander.
Effective May of 2020, Captain Lalor assumed command of our Gulf District. Then, in March of 2021, Captain Lalor assumed command to the Lee County Sheriff's Office West District.
Tim Lalor was a member of the Lee County Sheriff's Office Hostage Negotiation Team for approximately eight years. He was nominated LCSO Deputy of the year in 2011 and Lee County BAR Association Law Enforcement Officer of the Year for 2012.
Captain Lalor studied at Florida Southwestern College, Barry University and Florida Gulf Coast University.
He comes from a family of law enforcement officers to include his grandfather and his uncle; both of whom served with the NYPD. Captain Lalor's brother and sister also currently serve with LCSO.
Back To Command Staff