ReUnite
Lee County Sheriff's Office has partnered with the United Way ReUnite Program.

Contact Information:
Prisca Asaro or Jenn Carolluzzi
239-433-2000
reunite@unitedwaylee.org
Deputy Dogs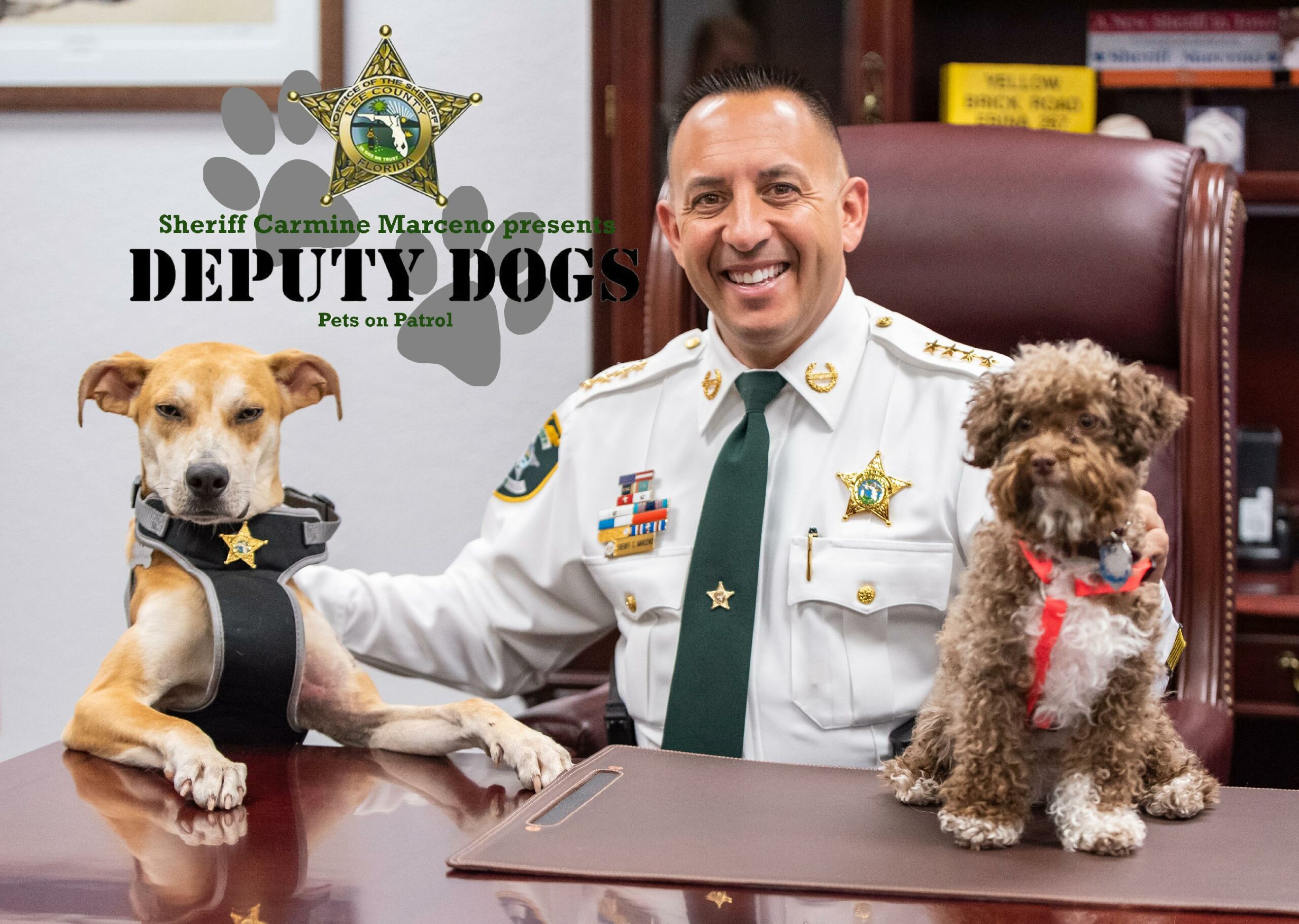 The Lee County Sheriff's Office Deputy Dogs Pets on Patrol program is recruiting residents and their pets to serve as community sentinels while out on their daily walks.

Headed by Lieutenant "Bosco," a 7-pound Havapoo-Poo, and Deputy "Chance," an abused and abandoned Florida cur dog rescued by Lee County Animal Services and later adopted and deputized by Sheriff Carmine Marceno, the Deputy Dogs Pets on Patrol initiative encourages pet owners to pay closer attention to suspicious activity while out with their pets and report concerns to the Lee County Sheriff's Office.

All Deputy Dogs Pets on Patrol participants will receive valuable crime prevention information to help identify suspicious behavior/activity, more effectively gather and communicate what they have seen and/or heard to law enforcement, and determine whether to call 9-1-1 or this agency's non-emergency number, (239) 477-1000.

In addition to being the spokes-pup to Deputy Dogs, Deputy Chance is now the official Goodwill Ambassador for the Lee County Sheriff's Office, Lee County and the Lee County School District. Deputy Chance is excited to represent best safety practices and to stand for all abused animals around the world.

For additional information regarding the Deputy Dogs Pets on Patrol program, please e-mail Deputy Chance or Lieutenant Bosco at deputydogs@sheriffleefl.org.

Are you interested in enrolling and becoming a Deputy Dog? Visit our website here to enroll: www.deputydogs.com. Be sure to click on "Become a Deputy Dog."
Do you have a four-legged friend you take for daily walks around your neighborhood? If so, the Lee County Sheriff's Office invites you to join us in reducing crime where you live by being our extra "eyes, ears and nose" in Sheriff Carmine Marceno's ongoing crime prevention efforts to keep Lee County a safer place to live, work and play.
To download our pamphlet: CLICK HERE
This Community Outreach Center is located at 13499 South Cleveland Avenue, Suite 151.


The operation hours of this center are Monday and Tuesday from 5:45 a.m. to 5:00 p.m., Wednesday 7:00 a.m. to 5:00 p.m. and Thursday and Friday from 5:45 a.m. to 5:00 p.m.

You can reach this center by calling 239-477-1422.

Your Community Response Coordinator is Martha Powell.