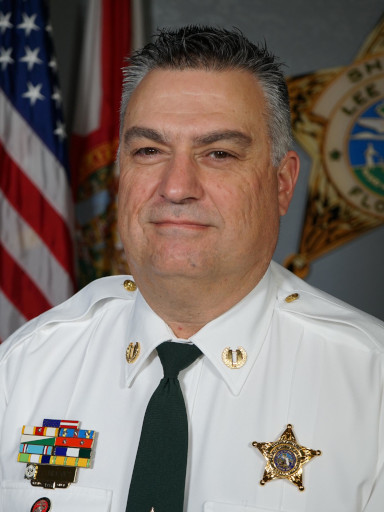 Major Christopher Reeves
Major Christopher Reeves began his career at the Lee County Sheriff's Office in 1994 as a Patrol Deputy after four years of service in the United States Marine Corps.
Prior assignments include working as a South District Criminal Investigations Detective and involvement with the Narcotics Unit, U.S. Drug Enforcement Administration Task Force and the regional Combined Law Enforcement Against Narcotics (CLEAN) Task Force, for which he became project manager upon achieving the rank of Lieutenant. During that time period, he served briefly as supervising Sergeant in North District.
Major Reeves later commanded the Special Investigations Division, which includes the Narcotics, Highway Interdiction and Intel Sections, until 2013 when he became North District Commander. Major Reeves was raised in North Fort Myers and attended North Fort Myers High School. He remains committed to the community in which he lives through active outreach and annual food and toy drives. He has coached Pop Warner football in North Fort Myers for 20 years. Major Reeves and his wife, Kelly, have four children. His daughter and son-in-law also work for the Sheriff's Office.
He is a graduate of the DEA's prestigious Drug Unit Commanders Academy in Quantico, Virginia.
Back To Command Staff