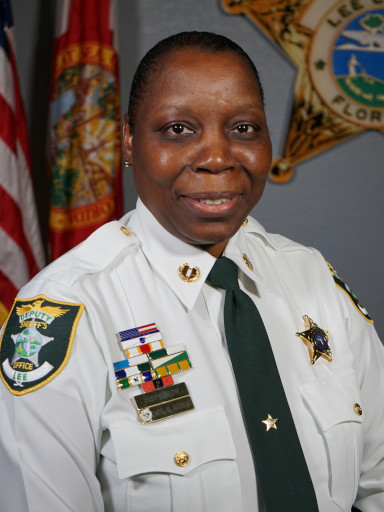 Commander Mia Rodgers
Commander Mia Rodgers joined the Lee County Sheriff's Office in 1997 as a certified Corrections Officer. She is currently assigned to the Corrections Bureau as the Commander-Main Jail, Security, Clerical and Juvenile Assessment Center operations. Commander Rodgers has advanced through the ranks and has held a variety of positions giving her a vast amount of experience, knowledge and education of her chosen profession.
Her previous assignments were; Shift Sergeant, Administrative Sergeant, Tour Commander, Lieutenant-Community Programs Unit, Lieutenant-Main Jail Facility, Captain-Community Programs Unit, Captain-CORE Facility, Captain-Security & Inspections Unit, Captain-Mail Jail Facility and Commander of Operations-Ortiz Site and Main Jail facilities.
Commander Rodgers is a graduate of Class #1 of the South West Florida Leadership Initiative (SWFLI), Class #1 of the Jail Executive Leadership Development Program (JEDP), Session #141 of Southern Police Institute-Administrative Officer's Course, is a Certified Florida Model Jail Inspector, Certified Jail Manager through the American Jail Association Commission, has completed several career development classes and is a current member of several profession related organizations.
Commander Rodgers holds an Associate's Degree in Criminal Justice Technology from Edison Community College, Bachelor's in Interdisciplinary Studies and Master's in Public Administration both from Hodges University.
Commander Rodgers is a Lee County native and graduated from Cypress Lake High school. She has served in United States Army as an 71L/F5–Administrative Specialist/Postal Operations.
She is a proud mother of four amazing adult children, in her spare time; she enjoys traveling and spending time with her family. Her motto in both personal and professional life is to "Lead by Example."
Back To Command Staff