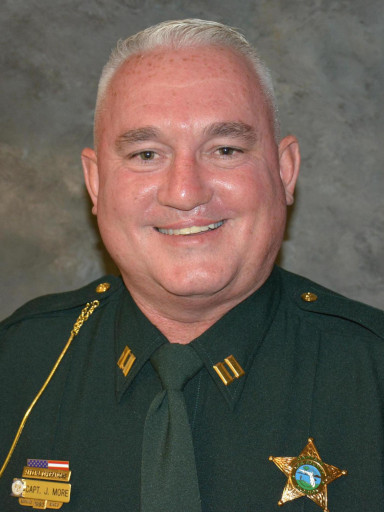 Captain Joseph More
Captain Joe More began his law enforcement career in 1992 with the Charlotte County Correctional Institution. The following year, he joined the Lee County Sheriff's Office where he worked in the Corrections Bureau until 1997.
Captain More then joined the Patrol Bureau and served as a road deputy for seven years.
In 2004, Captain More was promoted to detective and worked with our Fugitive Warrants Division. In 2005, he was promoted to sergeant, then in 2007, was promoted to lieutenant and assigned to North District where he served as Watch Commander. Captain More also broadened his experience and depth serving with the Special Investigations Division, K-9 Unit, Anti-Crime and Sexual Predator Units.
Captain More has also served as Assistant Commander in our Gulf and Central Districts. Captain More spent 16 years as a member on our SWAT Team, the last 4 years as Team Leader. His current role is Commander and Captain of North & Gulf District.
Captain More is a native of New York. He moved to Lee County in 1983 and attended Riverdale High School. Captain More has an Associate in Science degree from Edison Community College and a Bachelors in Science degree from Hodges University.
Captain More enjoys spending time with his wife of 25 years and their three children. He is active in the community and coaches kids in the Olympic sport of Judo.
Back To Command Staff