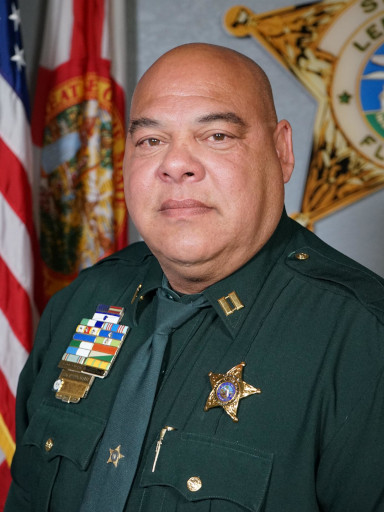 Captain Chris Velez
Captain Chris Velez joined the Lee County Sheriff's Office in 1993 and spent the first five years of his career working at the Lee County Stockade. Captain Velez was one of the original members of the (C.E.R.T.) Corrections Emergency Response Team and served as a team leader.
In 1997, Captain Velez was chosen to attend the Rehabilitative Training Instructor Course held in Fort Leonard Wood, Missouri where he became certified as a drill instructor for Shock Incarceration Programs, eventually being promoted to Shift Supervisor.
The following year, Captain Velez was transferred to the Training Division, a role he served for eight years. Captain Velez was tasked with the training of more than 450 corrections officers annually along with the supervision and coordinating of all field training officers, trainees and academy recruits. While assigned to the Training Division, he was promoted to the rank of Lieutenant and then Captain.
Captain Velez was then assigned to the Public Services Division where he commanded units including Honor Guard, Public Information, Video Production, Community Relations, Gated Community deputies, Illegal Dumping and the Sheriff's Youth Activities League.
Captain Velez has served as an Academy Instructor for more than 15 years and is certified through the Florida Department of Law Enforcement Criminal Justice Standards and Training Commission. He instructs in firearms, defensive tactics, first responder, CPR and defensive driving.
Captain Velez has an Associate's Degree in Criminal Justice and has received several awards and commendations during his career including Unit Citation, Grand Cordon, Officer of the Month, Distinguished Volunteer Service Award and more.
Captain Velez is married and has five children and one stepson.
Back To Command Staff